Magnitude-7.0 Earthquake Devastates Impoverished Country of Haiti. You Can Help!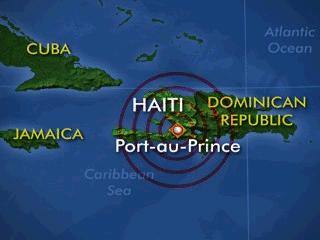 A strong earthquake hit the impoverished country of Haiti this afternoon, where a hospital collapsed and people were screaming for help. Other buildings also were damaged.
The earthquake had a preliminary magnitude of 7.0 and was centered about 14 miles (22 kilometers) west from the capital of Port-au-Prince, according to the U.S. Geological Survey.
An Associated Press videographer saw the wrecked hospital in nearby Petionville, and a U.S. government official reported seeing houses that had tumbled into a ravine. Let us pray for our brothers and sisters in Haiti and do all that we can, wherever we are to help!
Haiti needs your help! JADAR Travel & Cruise will donate 10% of all travel commission received between January 1, 2010 and December 31, 2010 for any travel booked through us or on our site, to the ADRA Haiti Earthquake Response Fund. You can help as you continue your daily life and travels. Help Adventist Development and Relief Agency (ADRA) bring relief. You can also donate directly at http://www.adra.org/ See below for other charitable organizations that are bringing relief to the people of Haiti
Book your vacation, cruise and travel packages today on this site or call
770-755-1656 and help Haiti while you travel
What you can do
Monitor the internet and news media for more information
Pray for Haiti and the people of Haiti
Identify reputable agencies dedicated to providing humanitarian support to Haiti and volunteer your resources, talent, time and money
Let us come together to help in this time of disaster.

Humanitarian organizations
You are encouraged to donate directly to your favorite charitable organization that is bringing relief to Haiti or any of the following organizations that are already providing disaster response assistance to Haiti*:
*The organizations listed in these pages are not affiliated with JADAR Travel & Cruise and do not necessarily endorse this offer. For specific information on the organization, please go to their websites (links provided above). These organizations are registered 501. c 3 not-for-profit, charitable organizations dedicated to providing humanitarian assistance and relief worldwide.